Paper Toss

Paper Toss application icon

Developer

Platforms

Latest release

1.82.4 / June 7, 2012

Genre

Casual

Mode

Single-player

Ratings

Apple: 4+, ESRB: E, PEGI: 3+
Paper Toss is a game developed originally for the iOS operating system which has since been ported to Android. It uses multi-touch input, and is available in two versions: free ad-supported and paid ad-free.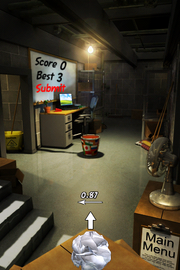 Paper Toss is set in an office. The player's objective is to flick a piece of paper into a bin. To make the game more challenging, there is a fan running in the space, thus the wind direction and speed are displayed, as they need to be accounted for when flicking the piece of paper. Players are scored on how many times they manage to toss the paper into the bin before missing. There are online leaderboards and 8 different levels: 3 office levels with small, medium and large distances away from the bin, an airport level to promote the sequel to Paper Toss, Paper Toss: World Tour, a dimly lit basement level, and a restroom level, which are all in the office. There is also a pub level and a street level, both of which occur away from the office.
The 2.0 one includes seven choices with six of them in a office and one in a warehouse. There are a lot of things to toss instead of paper, things like food and even a grenade which can burn up people. You can break into boxes and fish tanks and open up drawers. There are also achievements.